Top-performing schools don't just receive great recognition — they promote collaboration, intuitive learning, and an environment for success. Menlo Park sits on the Southern edge of San Mateo County within the San Francisco Bay area of California.

Menlo Park is one of the most desirable places to live, with a plethora of fantastic school systems for children to attend. If you're considering a move to the area, continue reading for your guide to the top local schools for all ages.
Top private schools
Menlo Park has various private schools for children in the community. Here are three of the top private schools to consider:
Lydian Academy
Lydian Academy is a top private school founded in 2006. This academy is unique in that it is an individualized school for 6-12th grade students who work with their teachers in a one-on-one classroom.

Lydian's goal is to nurture and develop young students with active and creative minds by providing an authentic academic education and building a sense of confidence and autonomy. They do this by helping students engage with their education, inspiring them with enthusiastic teachers, and creating a positive learning atmosphere.

Lydian middle schoolers will receive a solid academic foundation to prepare them for high school. High school students will have an opportunity to choose from a variety of paths after graduation.
Peninsula School
This private school has been a leader in progressive education since 1925. The Peninsula School believes that every child is born with natural curiosity. Their goal is to provide kids with a joyful environment and create an opportunity for students to participate in their learning.

What makes this private school interesting is the fact that they offer grade-free learning. This non-competitive learning environment makes it easier for children to embrace learning and go at their own pace. Additionally, children are placed in classes that focus on aligning their developmental and cognitive readiness.
Phillips Brooks School
The Phillips Brooks School is nothing short of a community. This private school inspires children to love learning, develop a spiritual nature, and effectively communicate with others.

Their focus is on delivering a challenging and collaborative curriculum, building an authentic partnership with families, and providing a high-quality classroom experience through inspired and experienced teachers.
Top elementary schools
Menlo Park is known for having a variety of quality elementary schools to cultivate children's learning. Here are just some of the elementary schools that stand out in the neighborhood:

Oak Knoll Elementary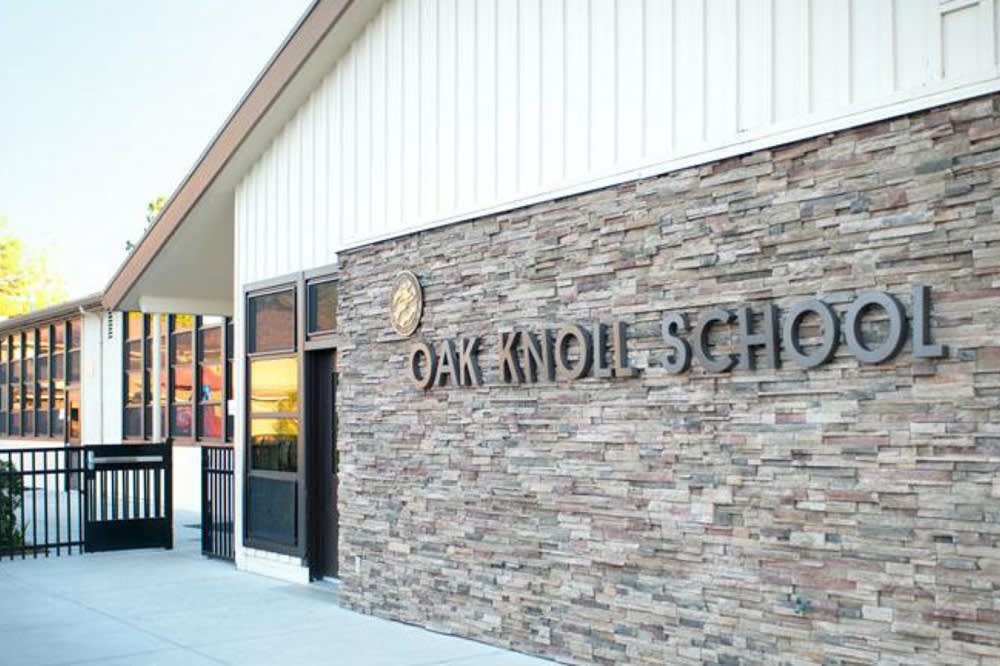 Photo courtesy of Oak Knoll School
Oak Knoll Elementary
pride itself on being a tight-knit community offering a quality learning experience for students in the area. Oak Knoll is dedicated to building strong and safe classroom settings which motivate students to take risks, be creative, and have an enriched learning experience.
This elementary school prides itself on having a diverse curriculum for students of all ages with a heavy focus on language arts and mathematics. Students will also benefit from specialist support, such as English language development for students who speak English as a second language, speech and language pathologists, and a counselor who leads the children's social-emotional learning.

La Entrada Middle School
Another excellent school in the Menlo Park area is
La Entrada Middle School
, which is an inclusive middle school of students, staff, and parents who are engaged in maximizing children's academic, ethical, and social learning.

This middle school is all about collaboration and community, which helps create a comfortable learning environment for students. La Entrada embraces the ideals of critical thinking, lifelong learning, and global responsibility to help shape well-rounded children who aren't just prepared for high school but children ready for the world.

Hillview Middle School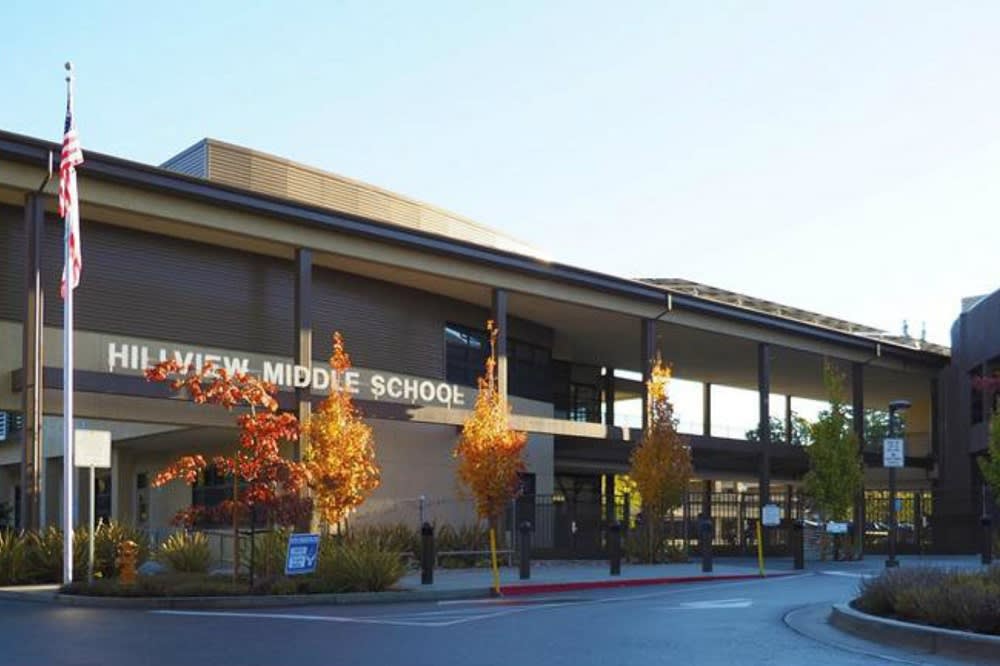 Photo courtesy of Hillview Middle School
Hillview Middle School
is another excellent middle school in Menlo Park, offering an exceptional education for students in the area. This middle school inspires students to not only be curious but resilient problem solvers and compassionate and constructive contributors to society.

Ultimately, Hillview aims to cultivate lifelong learners during individual and collective journeys. What makes this middle school interesting is that they use an organizational structure called the Academy Model, which groups students and teachers into smaller learning groups to provide students with a better quality of learning.

With smaller learning communities, teachers can give students greater attention to their learning needs. Students can also develop a better sense of community when working in smaller groups with other students with the same academic teachers. Hillview Middle School further asserts community with their academy parents. Each academy within the school has at least two academy parents who work closely with the teachers to provide volunteer support.

Hillview also provides a plethora of clubs and activities for students to get engaged in as well as a strong athletic department to nurture inspiring athletes as they pursue their academics.
Top high schools
High school is an important time for every student. These years are where students truly hone their interests, prepare to continue their academic journey, and ultimately prepare to embark on a journey in the real world. Here are two of the top high schools offered to students in Menlo Park:

Menlo-Atherton High School
Menlo-Atherton
is an exceptional high school where students are nurtured to reach their full potential. At this high school, students get to enjoy rich academic activities in a park-like atmosphere with beautiful landscaping and tree-lined paths.

But aside from its beauty, there is an impressive amount of parent and community involvement. This is one of the main things that contribute to Menlo-Atherton's calm and safe learning environment. Students at this high school are held to high academic standards and teachers are expected to deliver high-quality education to all students that attend.

What makes Menlo-Atherton unique is that it is part of the Sequoia Union High School District. This district includes four comprehensive and one continuation high school. The Sequoia Union district draws its students from nine neighboring elementary/junior high school districts totaling to around 8,000 students. There are approximately 850 credentialed staff members that provide support to students.

Parents considering this high school for their children will be pleased to know that they offer a broad range of classes that meet the highest academic standards. In fact, classroom instruction is based on the California State Standards. Additionally, all classes meet the University of California and California State University entrance requirements along with state and district graduation requirements.

Oxford Day Academy
Oxford Day Academy
is another exceptional high school in Menlo Park that believes in building leaders of today and champions of tomorrow. This is a charter high school for the Sequoia Union High School District.

What makes this charter school different is that they focus on transforming the traditional public high school model by engaging and cultivating intelligent and compassionate young leaders with character and the passion they need to make a positive impact in the world.

Oxford Day Academy is committed to preparing students academically and for global citizenship. This charter school also focuses on smaller class settings with a student-teacher ratio of 15:1. Oxford Day also promotes next-generation learning by promoting an environment of intellectual freedom.

This teaches students how to navigate the world independently and use their knowledge to be curious and think critically. If that's not enough, this high school makes technology an integral part of learning. In fact, they want students to not just be consumers of technology but be creators of technology and to understand how technology is continuing to shape the world.


Menlo Park is an exceptional neighborhood with exceptional schools to match. This community offers a variety of schools at all levels ranging from private, public, and charter schools to meet the needs of students.
Dana Carmel
is a real estate agent servicing the Menlo Park community. If you're looking for houses for sale in
Menlo Park, CA
, reach out today to for an exclusive listing.